Guided Duck Hunting Trips
WillowTail Farm encompasses 2,600 acres of private duck hunting located in West TN.  All of the blinds are heated and have full stoves for some good eating. The duck lodges are just minutes down the road from the boat sheds. We use all top of the line decoys and electronics. I am sure you will be impressed once you climb in the blind and take a look.
Ol' Hole – $2,000 per day (Up to Eight people) 
Drive passed our own private refuge of flooded corn and millet. Step down into a well lit boats and enjoy a scenic 15 minute boat ride to the blind. The blind itself is 30 by 10 feet and is accommodated with heaters for the chilly days. The timber hole is 70 yards by 70 yards with the blind situated in the shadows of cypress, tupelo, and buck brush around it. We use the top of line decoys and also a Duck Thang that is made just up the road from us. Enjoy a home cooked meal that includes bacon, sausage egg cheese biscuits and mid day snack ranging from pizza to Bar-B-Q burritos. We provide hunting for eight clients in this blind for $2,000 per day. Most groups are four to six in size and there will be no mixing of hunting groups. The blind is all yours for the day! Come see what true West TN duck hunting hospitality really is!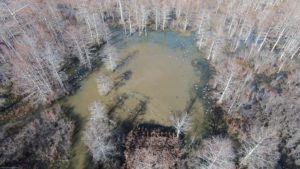 Big Cypress – $1,500 per day (Up to Six people)
Pull through the gate and pass by our own private refuge of flooded corn and millet. When you step out of truck you will find well lit boats that make for a safe boat ride. A five minute boat ride into a hole that was once described as "the colosseum". The hole is 100 yards by 70 yards. The blind is 30 by 10 feet perfectly situated in the middle on an old oxbow of the river. Imagine the experience of looking at 200-300 year old cypress trees as the ducks work down into the hole. The blind provides hunting for six clients and is a flat rate of $1,500 for the day. Bring a couple of friends or fill all six holes. The blind is all yours for the day! It's you and your buddies, guide, and cook.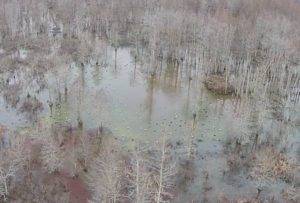 Cypress Bend – $250 per person (Up to Eight people)
Also known as "Maple Flats", our Cypress Bend is situated in the heart of the West TN, which is historically known for an extremely high traffic area for mallards. When pulling down the long gravel road to our boat shed, you will notice a large field underwater, which is flooded millet and corn. That field will hold a large number of trading ducks up and down the local rivers. Upon arriving at our lighted boat shed, we will unload your gear into our War Eagle boats and head down the ditch, through the timber, to the Cypress Bend blind. The blind is perfectly placed between aged cypress trees that provide excellent cover for huge wads of mallards! This hole is a natural duck paradise that has always been consistent. This blind can shoot up to eight hunters comfortably. You don't want to pass up visiting the "Cypress Bend" hole.
The hunt consists of meeting us at the lodge around 5:30.  We then take a short ride down the road to our boat sheds.   We provide a full breakfast and we hunt till 12:00pm to give the birds resting time for the next day.
All Inclusive Lodging – $100 per person a day
Our lodging option is just minutes from the duck blinds.  The lodge can accommodate up to ten guests.  Lodging will include an all inclusive meal.
-We can accommodate larger corporate groups up to 14 people. Please ask for more details.
Questions?  call Ryan Fisher at 615-306-7002
What to bring:
-Federal Duck Stamp
-Shotgun
-Steel shot shells (#1, #2, or #3's)
-Sunglasses
-Water proof rain gear
-Camera
-Chest Waders (only if you choose to hunt out of blind)
A 50% deposit is required within 10 days of booking to ensure your dates.
A 50% deposit is required to secure a reservation within 7 days of booking. In case of a cancellation, the deposit is fully refundable less a $100 processing fee if the written cancellation is received prior to 90 days of the arrival date. For cancellations within 90-60 days of arrival, the deposit is non-refundable. Requests to move a scheduled trip date are the same as cancelling and re-booking. Because of our reliance on advanced bookings, we must make no exceptions to our cancellation policy. Tennessee weather is often variable, trips are not cancelled due to adverse weather conditions. If you are at all concerned with the cancellation possibility, we strongly encourage you to purchase trip insurance.